E-learning has grown immensely over the past few years, and more people than ever are choosing to learn online. In fact, the global pandemic was a great push forward for modern technologies. As a result, the market has become full of various apps and platforms designed to enhance remote education. If you're a teacher, tutor, or education professional looking for ways to improve your virtual learning experience, you're in luck! This blog post will discuss some of the best apps for virtual learning that you can start using today.
E-learning Statistics
Let's kick off today's research with some thought-provoking numbers. A little time travel shows that the global e-learning niche was approximately 250 billion US dollars worth in 2020. Several forecasts state that this number will grow to 521.8 billion US dollars by 2027.
By 2021, there were over 189 million online learners worldwide.
With such results, it is fair to say that e-learning has become one of the most popular learning methods in recent years. The advantages are obvious:
Students can attend classes from anywhere in the world. The same thing for teachers – hold lessons from the comfort of their home.
It is a more flexible solution for those who have trouble attending physical classes.
E-learning comes with unique tools and apps that can turn an ordinary lesson into an interactive and highly engaging session.
Grab Your Must-Have Apps for Virtual Learning!
With all the benefits in mind, let's move on and check out the apps for virtual learning you should know about. We've got you covered, from interactive whiteboards to apps that focus on specific learning styles!
LiveBoard
Category: Online Collaboration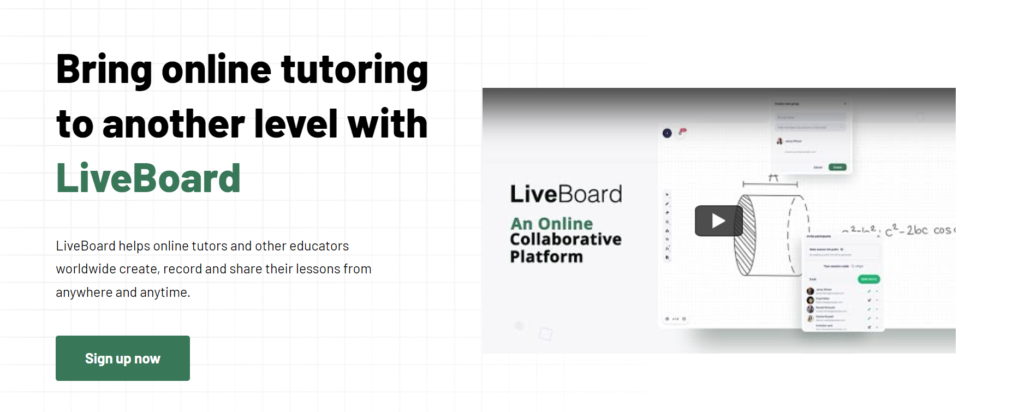 LiveBoard is a must-have for tutors, especially those specializing in STEM subjects. It is an online whiteboard supporting real-time collaboration between the teacher and the student. Educators can use it to write, draw, or type on the screen while students watch and learn.
Location and timing are not an issue for LiveBoard users. The platform's advantage is the effortless access to remote teaching via any device – tablets, mobile phones, or PCs.
What's more, it's a perfect solution for tutors who have visual learners. Create visuals and graphs that will help students understand challenging material better. The platform's interactive quizzes, easy-to-create graphics and charts are also a great way to assess your student's knowledge.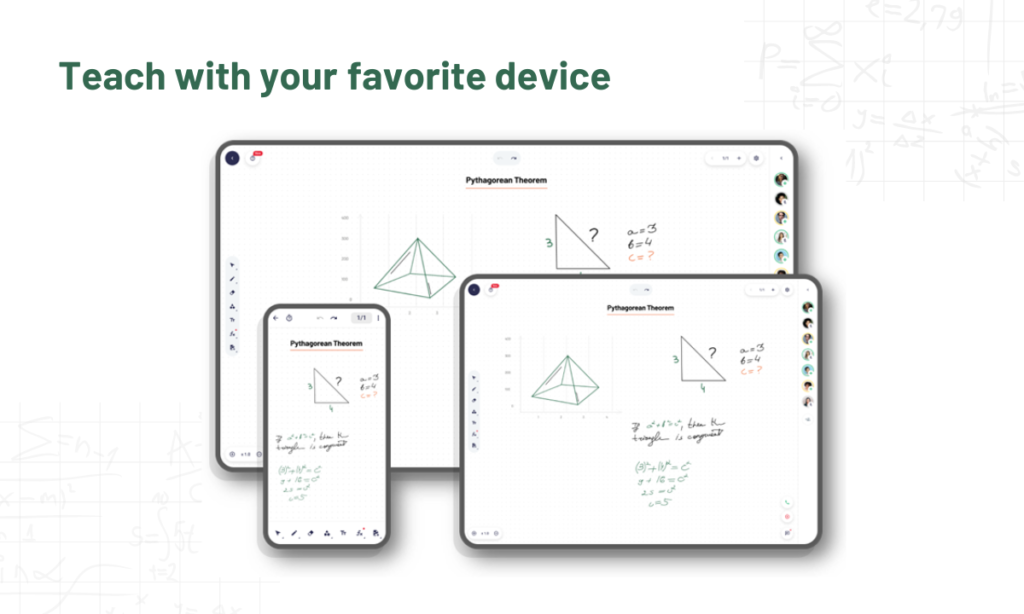 Monitoring students' attention is several times easier with LiveBoard's unique attention tracking tool.
The platform is free, with some premium features accessible through a paid subscription.
Google Classroom
Category: Virtual Learning Management System


Google Classroom is one of the most popular apps for virtual learning. It is a cloud-based platform that helps educators create, distribute, and grade assignments quickly and easily. The platform also has a built-in messaging system that allows teachers and students to communicate with each other.
Google Classroom integrates with other Google products such as Gmail and Drive. This makes it easy to share files, create documents, and give feedback on lesson files.
Google Classroom is free to use. However, a paid G Suite Enterprise for Education comes with additional advanced features. These include videoconferencing, enhanced security, and premium support. The subscription fee is $4 per user.
Seesaw
Category: Learning Management System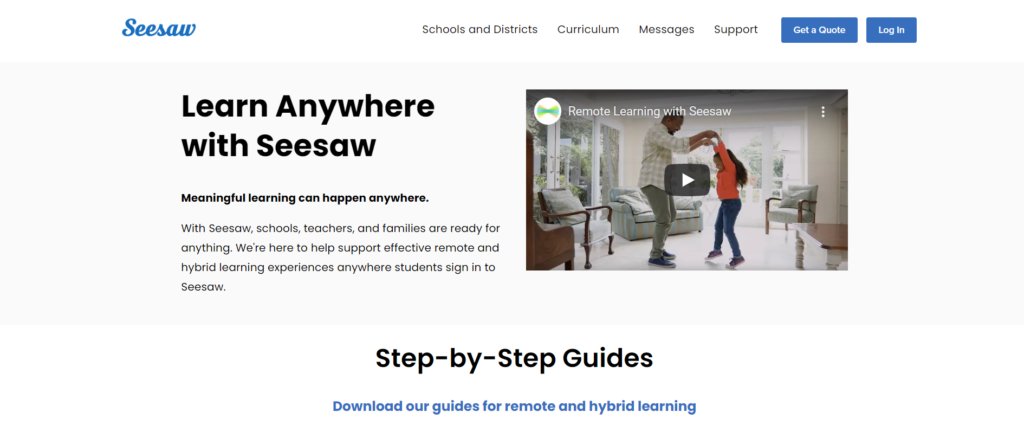 Seesaw is another valuable option on today's list of apps for virtual learning. It is especially great for educators working with young students. Seesaw is a digital portfolio that allows teachers to collect their students' work and give feedback.
The platform has built-in activities, templates, and lesson plans created by teachers worldwide. Use Seesaw's virtual classroom options to showcase your students' achievements and progress levels to their parents.
Seesaw is always free for teachers. However, there are in-app purchases for some advanced features. If you want to integrate it into your teaching methodology fully, feel free to request a quote.
Nearpod
Category: Virtual Learning Platform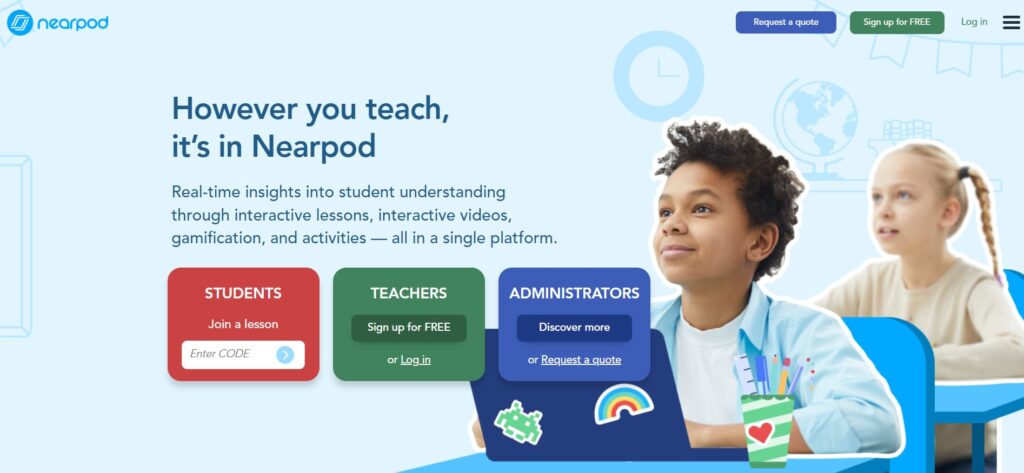 Nearpod is an all-in-one solution for educators looking for apps for virtual learning. It is another cloud-based platform that allows you to create, distribute, and manage your digital lessons.
Engage your students via interactive slide shows that can include formative assessments and dynamic media. Another great thing about Nearpod is that teachers can turn a standard video into engaging and collaborative teaching material. What does this mean? Add built-in questions that appear in set intervals as your students watch the video.
Nearpod is free for teachers working with 40 students per lesson. The free plan includes standard features and functionality, such as:
Interactive slides, videos, and gamified activities
100 MB cloud storage limit
Integration with some leading online teaching platforms like Microsoft Teams, Google Classroom, etc.
EdModo
Category: Virtual Learning Toolkit


If you are looking for a platform to help you quickly communicate with your students, spare some time to check EdModo. The platform has a built-in messaging system, digital backpack, assignment bank, and a grade book.
It's a broad community of educators that are always willing to share their teaching material, best practices, and advice. The digital backpack feature allows collecting all the students' work in one place for east grading and feedback.
Like the apps we've talked about earlier, EdModo is free for teachers. However, you need to connect EdModo if you want to access some custom features.
ThingLink
Category: Methodology Development
Access via: Official Website

ThingLink is an innovative tool that allows you to create interactive images and videos. This means that your students can interact with the material you are presenting to them.
Try engaging your students in a virtual classroom with a tool like ThingLink – create interactive 360° images and videos. For example, you can add questions, notes, links, and other multimedia content to an image or video. This will indeed develop contextual understanding helping them adapt to new social situations and environments.
So, there you have it – our top picks for the best virtual learning apps. These tools can help make your online teaching experience more immersive and compelling. Have you tried any of these apps? If not, what are you waiting for?