LiveBoard is updating pricing plans and the features available with each tier. In the interests of complete transparency with LiveBoard's current and future users, we have published this guide on LiveBoard's enhanced features, choosing the pricing plan that is best for you, and what else you can anticipate in the near future.
Features Enhanced
We have come a long way in developing an application that meets the needs of educators and students in terms of what they expect from an online collaborative whiteboard and much more.
Today LiveBoard connects millions of students with teachers for real-time collaboration all over the world. Designed specifically for remote teaching, it not only delivers what is needed for streamlined teaching and learning with a digital whiteboard, but it also offers features that help educators with class management and student engagement, as well as brings in benefits that will simplify and enhance your experience throughout your use of the application.
1. Student Attention Tracker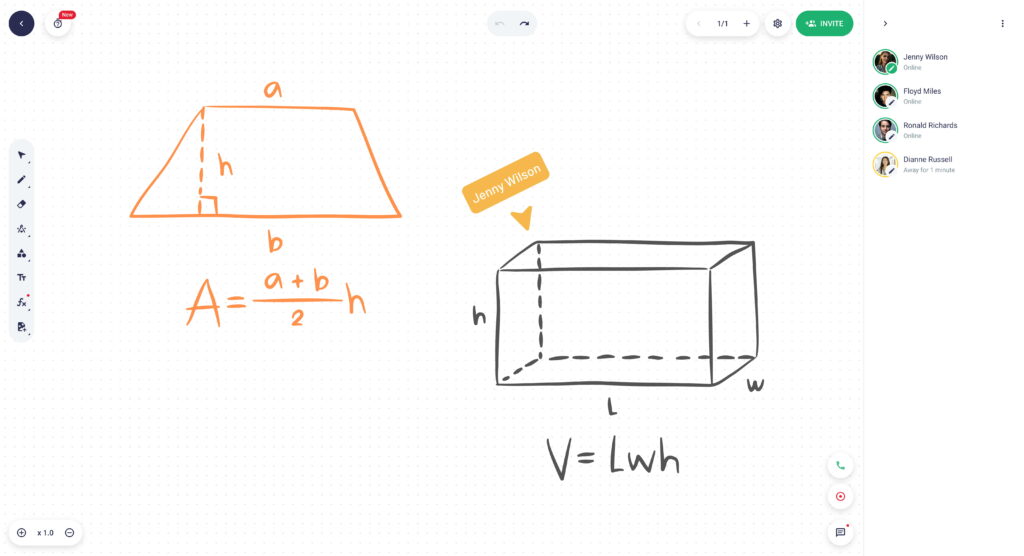 Plans Available: Pro
The student attention tracker is a practical feature LiveBoard offers for better classroom management. This feature keeps you aware of whether students are actively listening or are distracted on another tab. When the student clicks on a tab outside the whiteboard, the tracker automatically detects it and changes the color of the circle around the user's profile picture from green to yellow, indicating how long they have been away. With the help of this feature, you can always be aware of your students' level of engagement and take further steps to bring their attention back when necessary.
2. Multi-User Whiteboard
Plans Available: Pro
Users subscribed to the Pro plan can control students' access to boards and their ability to annotate on a whiteboard. The multi-user whiteboard is a great feature for engaging students in your LiveBoard session. When you turn on students' drawing permission, your session participants will have access to the annotation toolbar and can annotate the presentation area.
With this feature, you can keep the process organized when explaining the subject. You, as a tutor, can manage students' collaboration with the whiteboard without being distracted or distracting others.
3. Group & Folder Management

Plans Available: Standard, Pro
LiveBoard helps you stay organized and easily navigate through large numbers of boards. Create unlimited boards, sort them into groups and organize them however you prefer. This way, you'll be able to keep your dashboard tidy, free from the confusion of piles of disorganized boards. You can do it either by subjects if you teach different subjects, or by students' group (be it individual or group teaching).
This feature will also help you save time on tiring administrative steps. Set up the group once, and all the students within the group will have access to the boards, recordings, and other assignments in the group.
4. Interactive Quizzes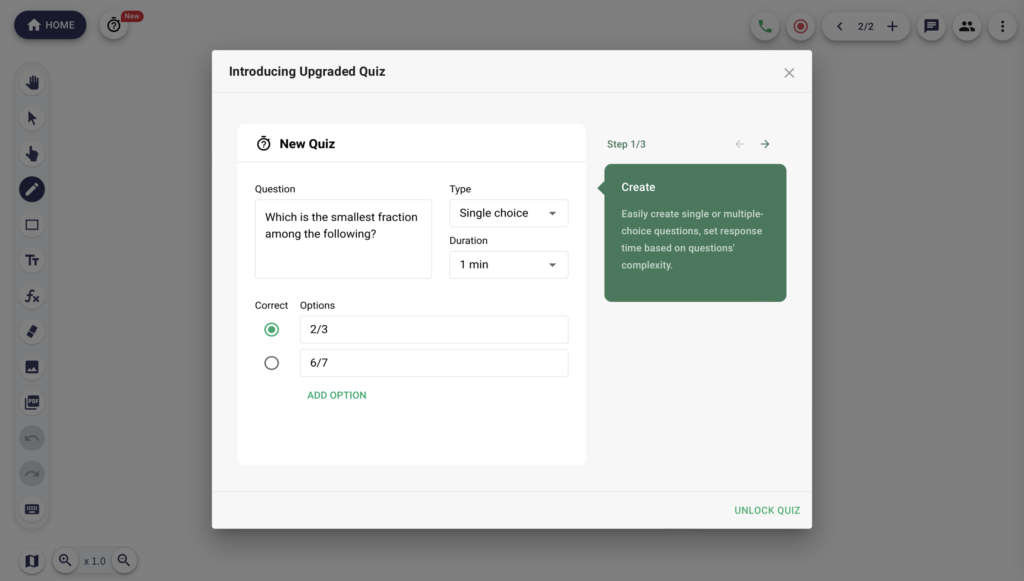 Plans Available: Pro
Subscribers of the Pro plan can make on-the-spot interactive quizzes directly on the board to boost students' engagement and monitor their progress. This handy tool assesses your students' performance and grasp of the topic, and can even do a formal assessment. The feature allows you to create sets of single-choice and multiple-choice questions, as many as you need, in one quiz session or separately. You can also set a time for each question and track how students are doing in real time.
5. Video Sessions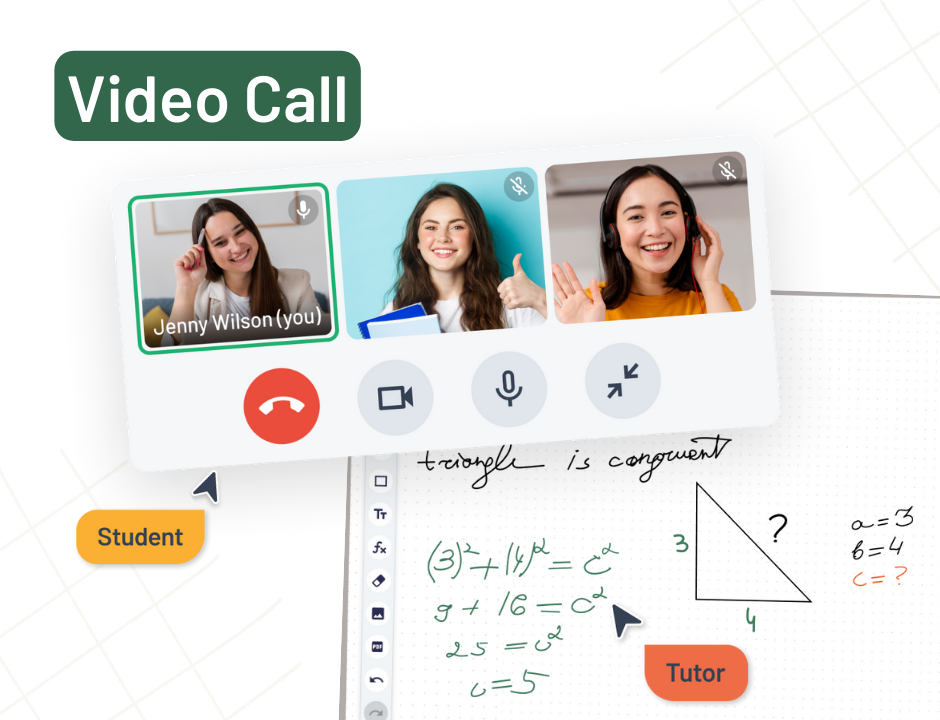 Plans Available: Standard, Pro
No more screen sharing and switching between multiple tools! LiveBoard has an in-built video call feature that lets you connect with unlimited students per board. The platform has a user-friendly interface that arranges everything in one place for easy accessibility and collaboration.
Teachers using LiveBoard don't need to create complicated links and registration forms for their students. Everyone can join the lesson without downloads – a single hop on the link, and they're in!
The best part about LiveBoard is that it is designed for an amazing user experience. The intuitive design has been carefully crafted to provide the best possible user experience. The platform helps teachers organize smooth and interactive learning sessions without the urge to use Zoom, Google Meet, Skype or other third-party tools. Use LiveBoard to save time and energy to focus on what you're good at – teaching!
6. Content Import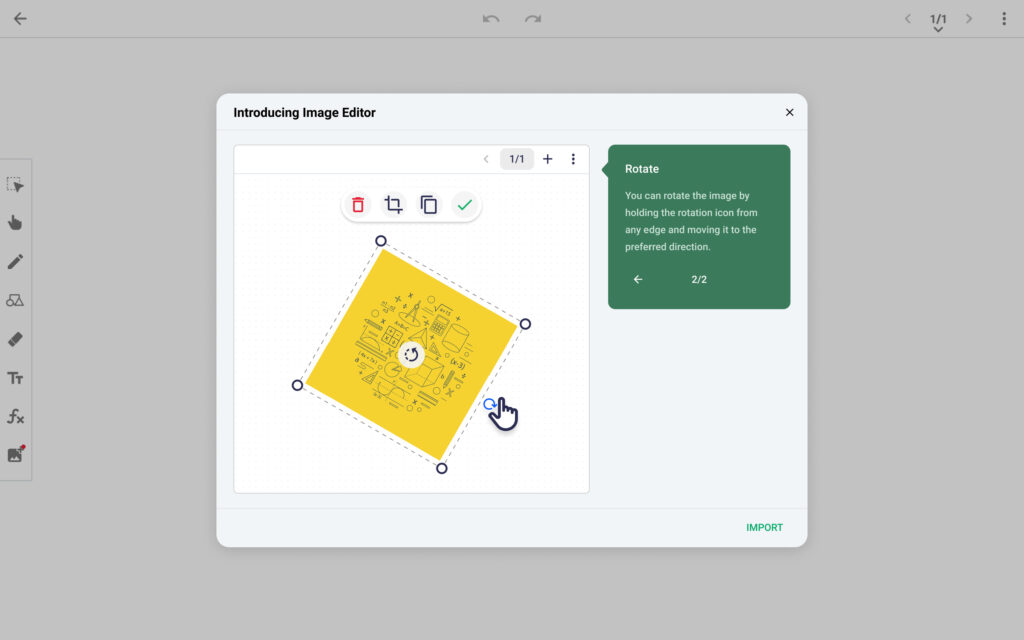 Plans Available: Limited, Standard, Pro
Enhance your lessons and presentations with visuals and all kinds of resources. LiveBoard lets you import images and PDF documents, and work on them on the board. You can create boards from PDF files and images and use them as a reference, annotate and highlight them, or simply base your board on an existing resource. This will help you save lots of time when preparing for the lesson and make your sessions visual and even more engaging.
When importing images, you can modify them to your liking by rotating or adjusting sizes. With PDF documents, you can select the pages you want to import and display each as a separate page on your board. You and all participants with access to the board will be able to work on them.
7. Recording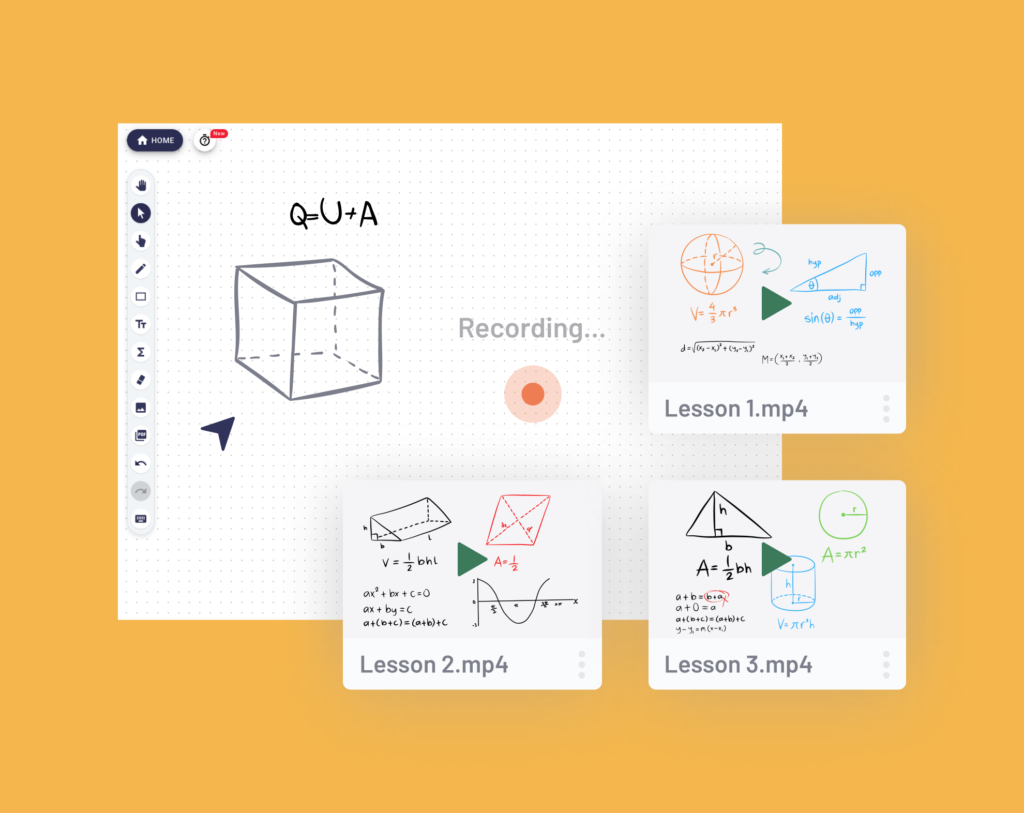 Plans Available: Limited, Standard, Pro
LiveBoar'ds lesson recording toolset is perfect for teachers engaged in online teaching. Users can record their lessons in high definition so that viewers can enjoy every detail and grasp the most of each session. The easy-to-maneuver and sleek interface provides an enjoyable and stress-free experience for those who choose to use it.
The recording feature is especially helpful for tutors who don't have time to concentrate on technical stuff and just want to focus on the lesson itself. The only thing to take care of is hitting the "Record" button and then pausing it when the lesson ends. The platform will automatically save the video in the "Recordings" tab in the LiveBoard account.
Here's a comprehensive step-by-step guide for you to start recording online lessons with LiveBoard and sharing them with a broader audience.
8. Export PDF/JPEG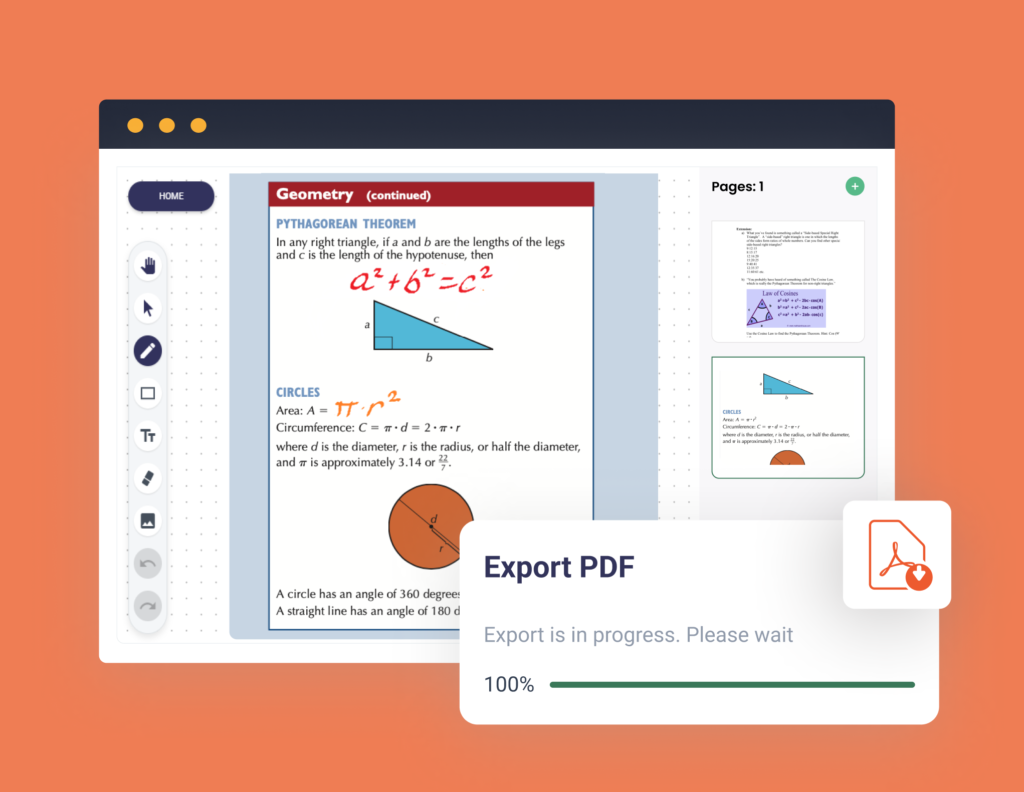 Plans Available: Standard, Pro
You can export boards as PDF documents to create shareable resources from your session content. Whether your students need to revise the class content or save it for future reference, or you want to re-use the content for teaching a different class or for a public lecture, you can always create a PDF file from your board.
9. Infinite Board (Web)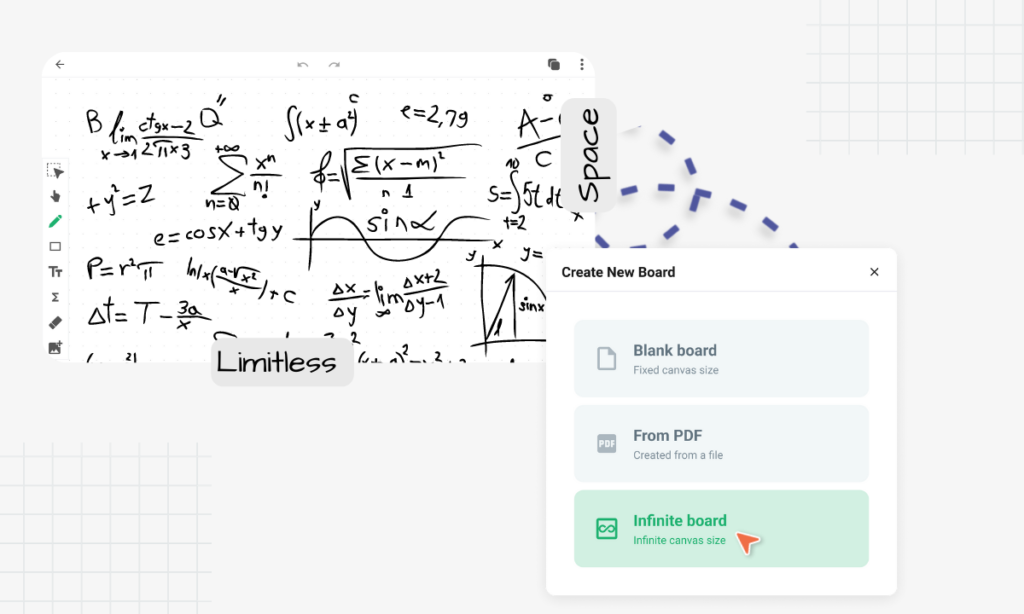 Plans Available: Limited, Standard, Pro
Enjoy teaching with boards that extend infinitely in all directions. This feature is currently available only in the web app. While you're on your browser, LiveBoard's canvas will keep you free of boundaries and limitations. Write and draw, insert shapes and highlight content as much as is needed for your class.
10. Device Independent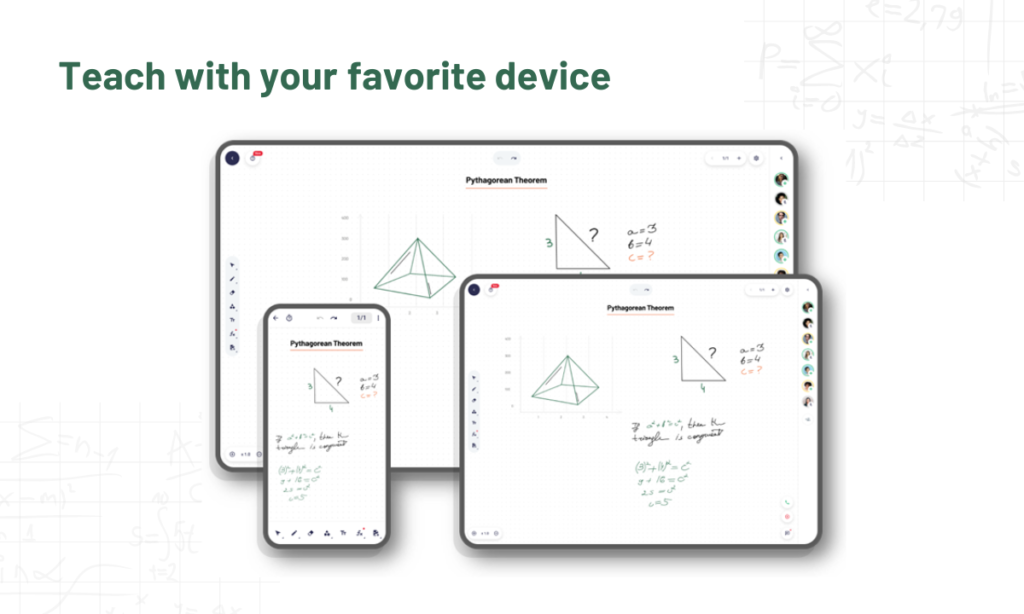 Plans Available: Limited, Standard, Pro
LiveBoard users love the idea of being able to use the same account regardless of their device. It's a very user-friendly solution that helps keep everyone on the same page, which is essential for educators.
The platform has flexible and integrated tools that enable dynamic and personalized learning for Android, iOS users, and even those using web browsers to access the lesson. LiveBoard is very versatile and can support educational continuity in many ways.
11. Whiteboarding Tools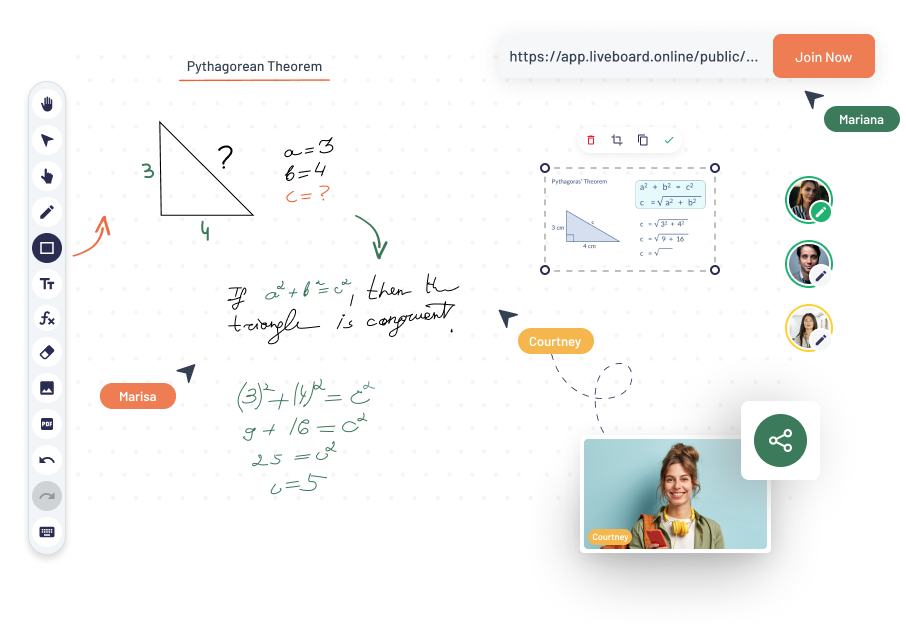 Plans Available: Limited, Standard, Pro
LiveBoard comes with a set of formatting tools, pens, eraser, pointer, text box, shapes, and more. Choose between a pen and marker, and customize sizes and colors. There are more than ten geometrical shapes you can insert, stretch, shrink, shorten and elongate to your liking, and customize the widths of the borders. You can also customize the sizes of the text and eraser.
12. STEM-Specific Toolset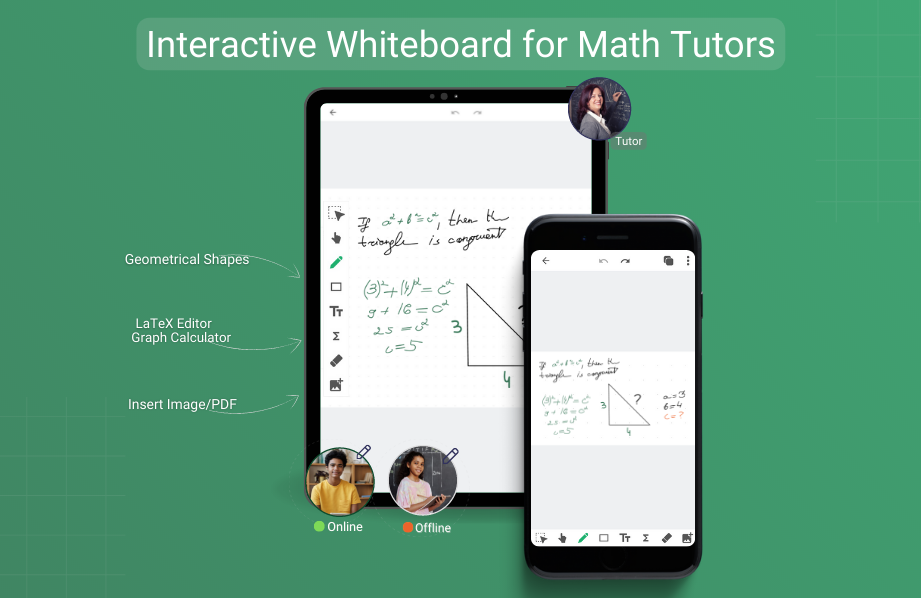 Plans Available: Limited, Standard, Pro
For symbol-intensive subjects, LiveBoard has Desmos Graph Editor, LaTeX formula editor, all types of shapes, and more tools. With the Graph Editor, you can insert math equations and place the ready graph on your board with a single click. With the LaTeX formula editor, you can easily build complex equations by picking symbols from a toolbar and typing variables and numbers. The editor comes with hundreds of LaTeX formula templates as well as the functionality to customize their color and size.
13. Dedicated Customer Success Manager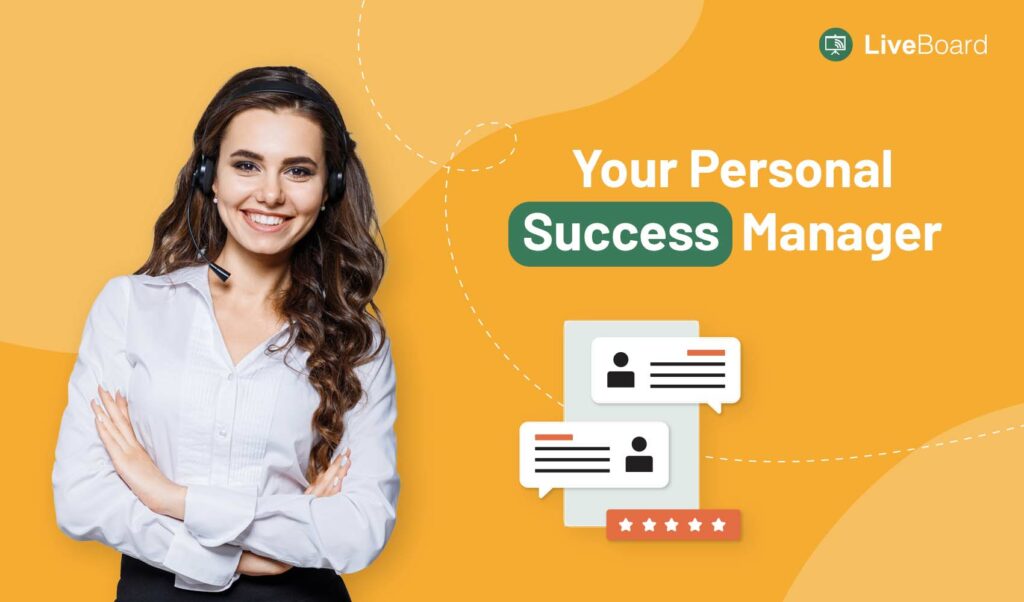 Plans Available: Pro
LiveBoard offers personalized onboarding and training tailored to your needs. LiveBoard's team will walk you through every tool and feature with all their details to help you get the most from them according to your teaching goals. We'll assign a specific and adequately skilled support representative that shall serve as the primary point of contact for all your support-related requests and account-related processes.
What Will Work Best For You
Depending on your use case, subject matter, classroom size, tools, and additional features you need, there are four packages available, three of which are paid.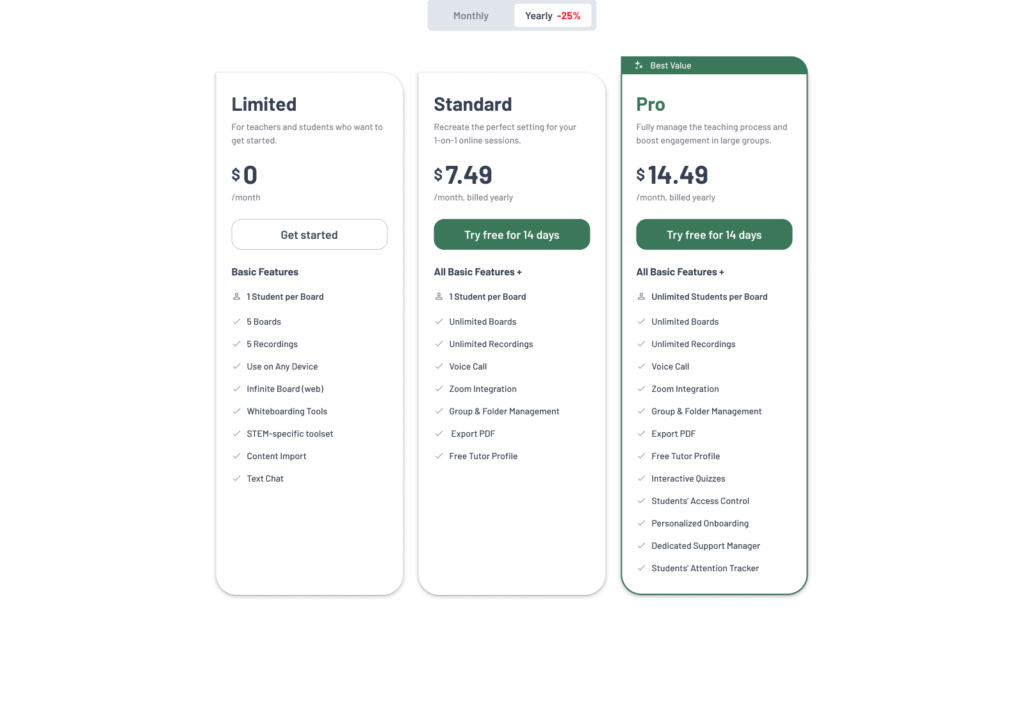 1. Limited
Pricing: $0
The Limited Plan is designed to help you get started and understand the platform's basic features, and allow students to use it for free. The limited plan enables the use of a limited set of essential LiveBoard components. They include whiteboarding tools, STEM-specific tools, importing images and PDF files, and recording and live-sharing the board. Voice calls are unavailable, and there is a limit of one student per board. You can also make a maximum of five boards and recordings. Nevertheless, a 14-day trial is available for you to thoroughly test LiveBoard for your needs and experience the platform's actual value.

2. Standard
Price: $7.49/month, billed yearly
The Standard Plan comes with all the benefits of the Limited Plan, with a number of additional features. With the Standard subscription you can make voice calls and hold video sessions via Zoom integration. Export your board to shareable resources in PDF and JPEG formats, as well as organize your boards with management tools. You can also get access to the Tutor Profile feature (discussed later in the article) once it's published.

3. Pro
Price: $14.99/month, billed yearly
The Pro Plan expands the set of features you have the access to in the Standard Plan. Hold on-the-spot interactive quizzes and manage students' access limits. Benefit from a personalized onboarding session to find the best tools and features for your needs and extract maximum value from your plan. In addition, your classroom size may stretch to unlimited students per board.

5. For Organizations
Price: Tailored Pricing
Contact our team for tailored advice and pricing for your company. If you have specific needs or questions, our dedicated customer support specialists can help you out. We offer tailored advice and custom pricing for schools, universities, tutoring companies and other organizations willing to purchase LiveBoard licenses for their teachers. Contact us today if you need integrations with our platform to make learning more seamless for your students. We're always here to help!

What To Expect In The Near Future
Tutor Profiles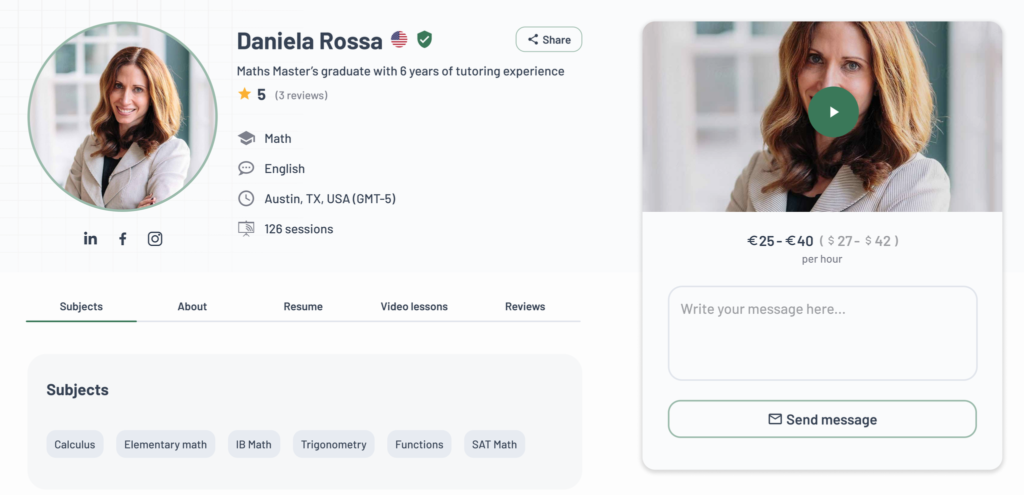 Available Plans: Standard, Pro
Your free profile as an online educator to promote your services, attract new students, and access a global network of educators. The platform will soon run a new "Find a Tutor" page to help educators using LiveBoard promote their services and find new students. Tutors with their own tutor profiles will get a chance to introduce themselves, their education, experience, and share example videos, images, and other content from their lessons. The launch of the "Find a Tutor" page is an exciting opportunity for online educators to build their business and use LiveBoard as the primary tool to power their teaching.
Submit Your Idea
LiveBoard is always responsive to the voice of its community. So much so that we have implemented 50+ ideas from our users over the past 12 months. Help us build great features for you. Feel free to reach out to us with helpful ideas and suggestions on how we can perfect your experience with LiveBoard.