Are you a tutor trying to make the learning process more interactive? Or are you a student who got used to online learning throughout the pandemic? Whichever one is your case, online whiteboards have got your back!
Why do online whiteboards become a must-have in today's educational process?
With remote learning growing so intensively nowadays, online platforms such as whiteboards and similar applications are a huge support in the process. Among the wide range of whiteboard applications and websites, let us look at a couple of advanced alternatives to the established LearnCube. Designed for online tutoring in various subject areas, LearnCube offers one place for all the teaching materials with easy exporting options in different document formats, simple integration, and a user-friendly experience.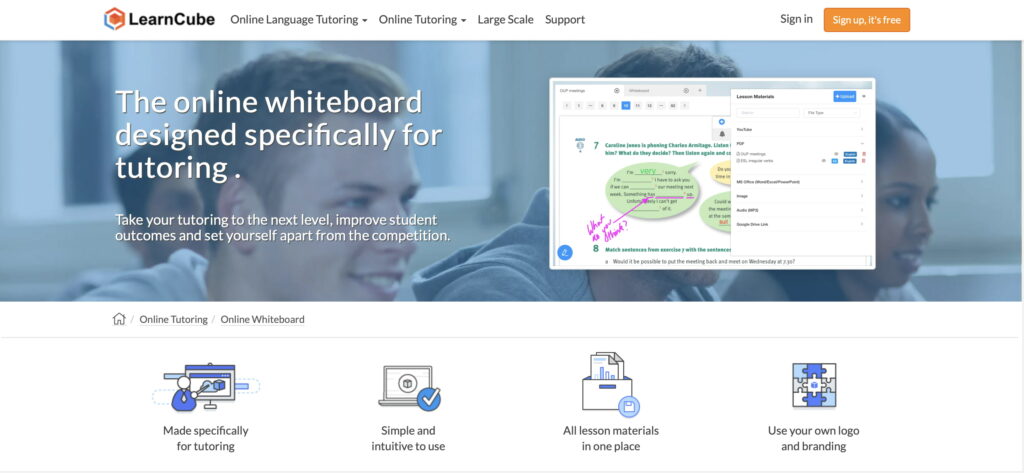 While the basic version comes for free, Whiteboard Pro comes with more advanced yet limited opportunities, including one teacher account, up to 25 students, and up to 100 files to your library for $9 per month.
If, for some reason, you are in search of a good substitute for LearnCube, scroll down for our pick of the best whiteboards you can use instead.
LiveBoard: #1 downloaded collaborative whiteboard app on Google Play
Meeting the increasing demand for interactive online tutoring platforms, LiveBoard has managed to set a high standard in the competition. Having more than 1.5 million app downloads in over 150 countries with an engagement of above 1,6 mln teachers and professionals, LiveBoard provides an opportunity for a collaborative experience for users who have been working with Zoom before.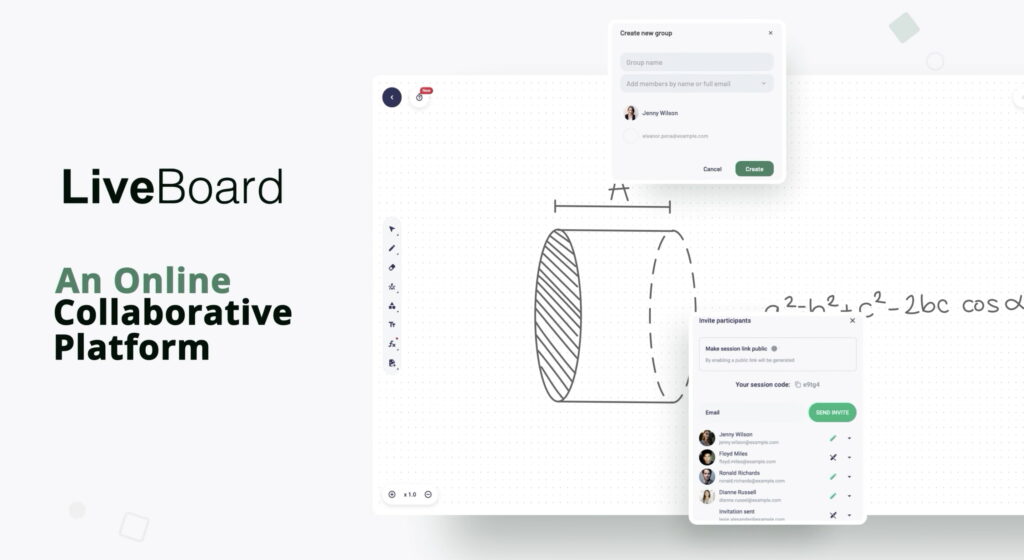 Needless to say, one of the biggest challenges of online tutoring is to keep students engaged. Tutors often face having the students do other activities while being on a Zoom call. LiveBoard's biggest competitive advantage lies in handling this issue. The platform has a real-time presence tracker and enables quick pop-up questions to get back students' attention and keep them focused with no need to prepare time-consuming quizzes and in-class exercises in advance.
In addition, LiveBoard comes with a pack of groundbreaking math tools that help tutors design high-end math classes, which add to the tools available for other subject areas.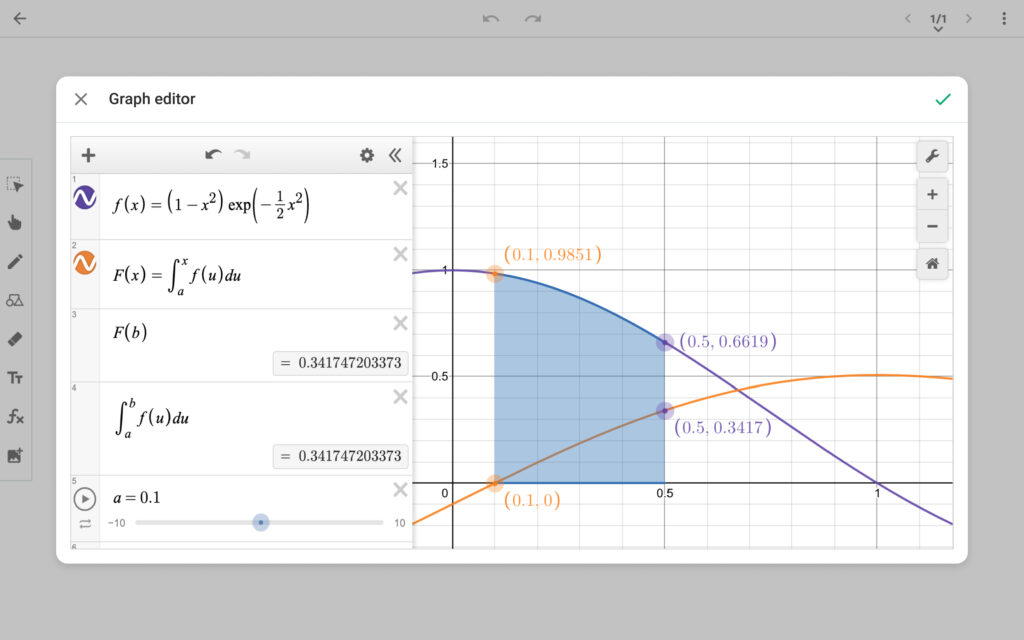 Furthermore, sharing the material on the go or after the class is over is an easy step, guaranteeing the availability of the class material for the absent students to 100%. Tutors may export all of the material they have covered in multiple LiveBoard tabs into a single PDF document and share it directly with students for further reference via email or on Facebook, YouTube, LinkedIn, etc.
Ultimately, for the overachievers who want to grow even further and become successful tutorpreneurs, LiveBoard is currently developing features that allow you to organize your tutoring schedule, receive payments, and grow the tutoring profile visibility to attract new students.
Unlike LearnCube, you may store unlimited recordings and boards in your account. The Free plan would provide you with free access to LiveBoard forever with a chance to use up to 5 boards and 5 recordings.
What are some other online whiteboard options?
Having discovered two of the big players in the industry, let us consider some other alternatives and see how they can serve their target market effectively.
Whiteboard.fi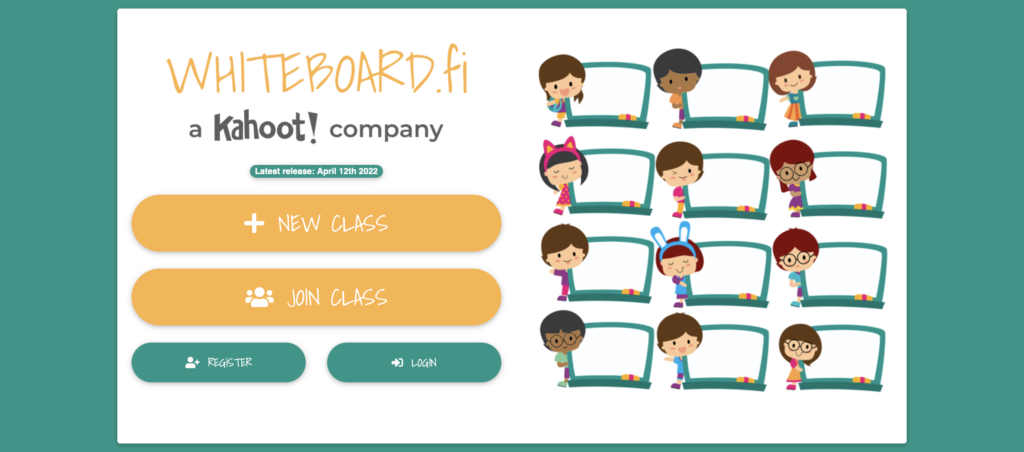 Deriving from the established Kahoot, Whiteboard.fi is a simple solution to the group classes. While the Free plan is very limited in its offerings, the Basic plan, pricing $4.99 per month, comes with an opportunity to invite co-teachers, upload PDFs, and block the ads. For more advanced actions such as storing the whiteboards in the library, giving feedback to students, and joining students' whiteboard sessions, you will have to opt for the Premium plan, which costs $12.99 per month.
Miro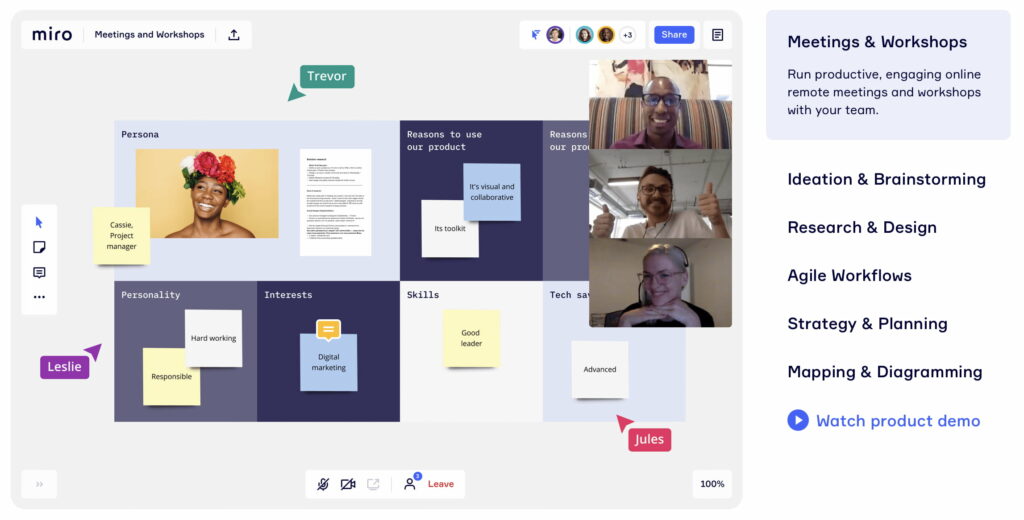 With authentic features such as Miro Smart Diagramming, Miro Smart Meetings, etc., Miro catches the attention of many educators and learners. Of the four offered plans, the producer suggests the Business plan for the advanced collaboration, which costs $16 for each member per month and enables unlimited boards, visitors, and the above-mentioned authentic programs. The full comparison between the offerings and features included in each plan is available on the official website of Miro.
NoteBookCast

Last but not least. If you need a short-term solution to the online teaching process and you want an online whiteboard to come in handy for no advanced purposes and a small group of up to 20 members, you may consider the NoteBookCast. The limitation of only 20 members might cause some difficulties for tutors working with larger groups. However, the fact that NoteBookCast comes for free compromises the situation. Although not the best solution for larger classes with the need for an advanced tool kit, this can be a satisfying and costless option for small groups and short courses.
Final Thoughts
To sum it up, the choice of the best whiteboard is strongly related to the area you are teaching in, the length of your course, and the height of the peaks you want to achieve. For someone who wants to combine the effective, the advanced, and the affordable in one place and looking for a solution that well-known universities and other educational institutions trust, LiveBoard is coming up as the best option. A single platform with simply shared material would be enough for others. For such cases, NoteBookCast could be a solution to consider.
Whichever one you choose, your educational purpose and teaching mechanism should go in the same direction. Hence, be sure to make the wisest choice for bringing up your generations as wisely as possible!