When it comes to online digital whiteboards, Classroomscreen is one of the most popular options. Its built-in features are also a very convenient tool for general classroom management. However, there are a number of Classroomscreen alternatives that may be a better fit for your needs. Depending on your desired features, preferred interface, and work style, you may find one of the digital whiteboards in this article to be a better option. We have selected nine of the best Classroomscreen alternatives available today. These tools offer unique features and benefits that can help improve your online teaching and team collaboration experience.
#1 LiveBoard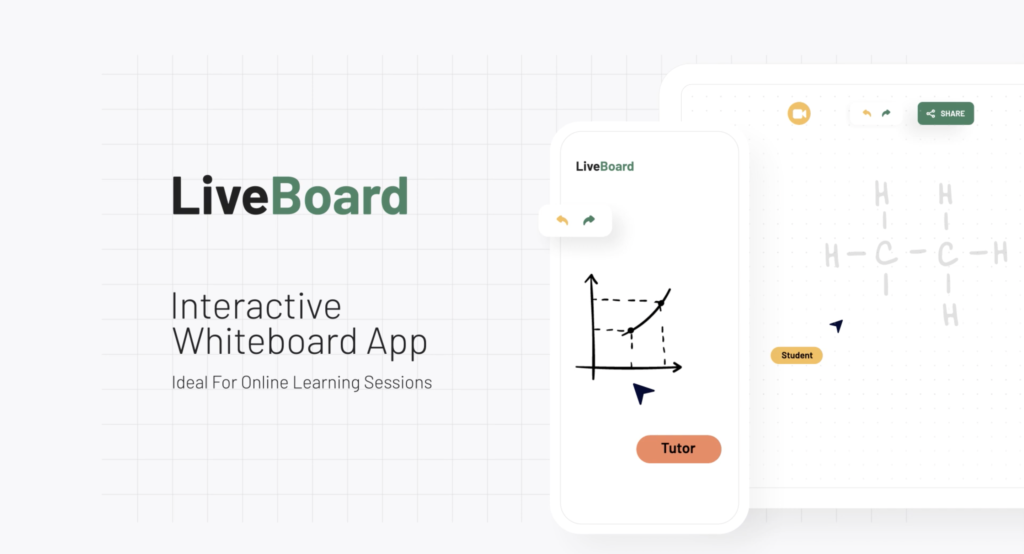 LiveBoard is a Classroomscreen alternative with a wide range of features for effective online teaching. It is an online collaborative digital whiteboard that lets you and your students work on the board interactively. As a teacher sharing the board, you can allow or restrict editing access during classes. You can follow your students as they solve problems and have them present during the session.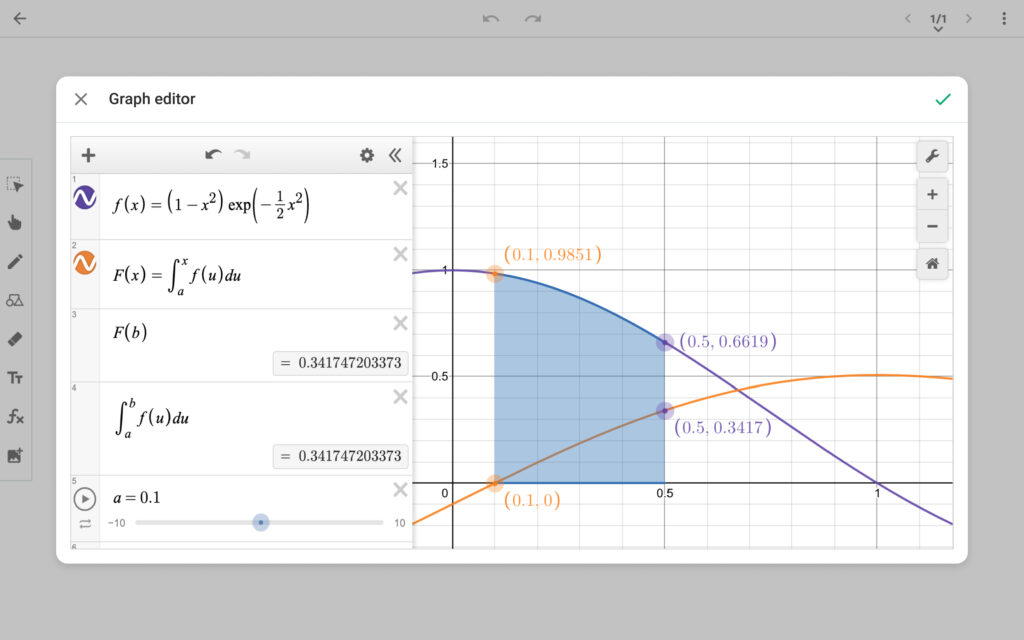 LiveBoard is especially powerful when the subject matter is Math and Science related. The graph editor embedded in the app allows you to easily insert graphs without any hassle. Simply fill in the required formulas and let LiveBoard do the hard part. Additionally, you have pre-built shapes you can insert and a freehand drawing tool.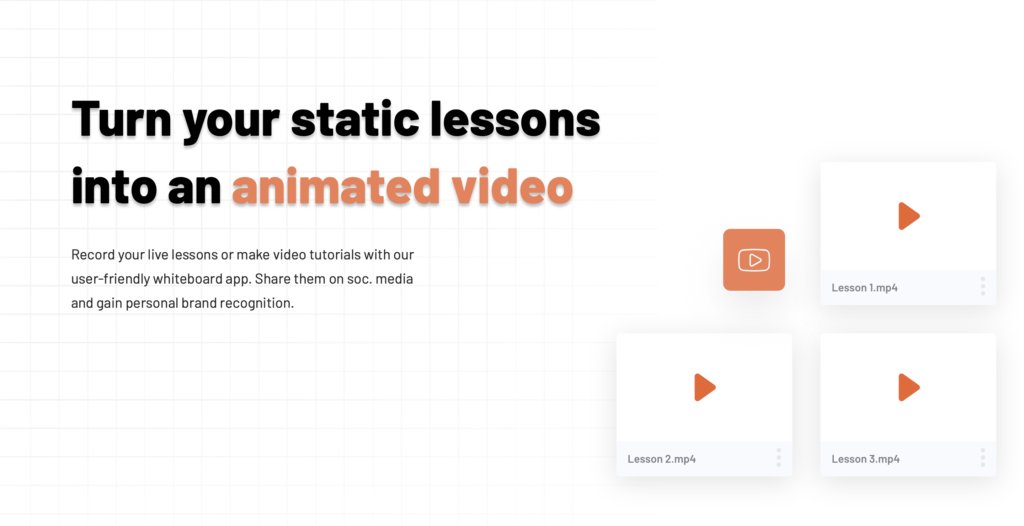 With LiveBoard, you can also record and save your live sessions and share them with your students to watch later. You can also create animated videos if you prefer video tutoring, which you can post on social media and develop your tutor-preneuership.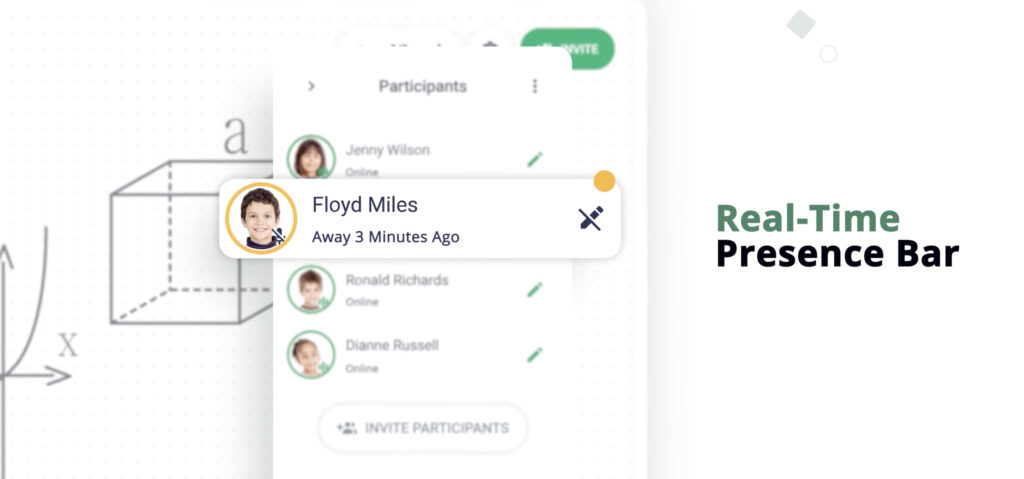 LiveBoard also has a feature that notifies you if students in your classroom are actively listening or are distracted. The attention tracker will indicate which students are away and how long they have been distracted.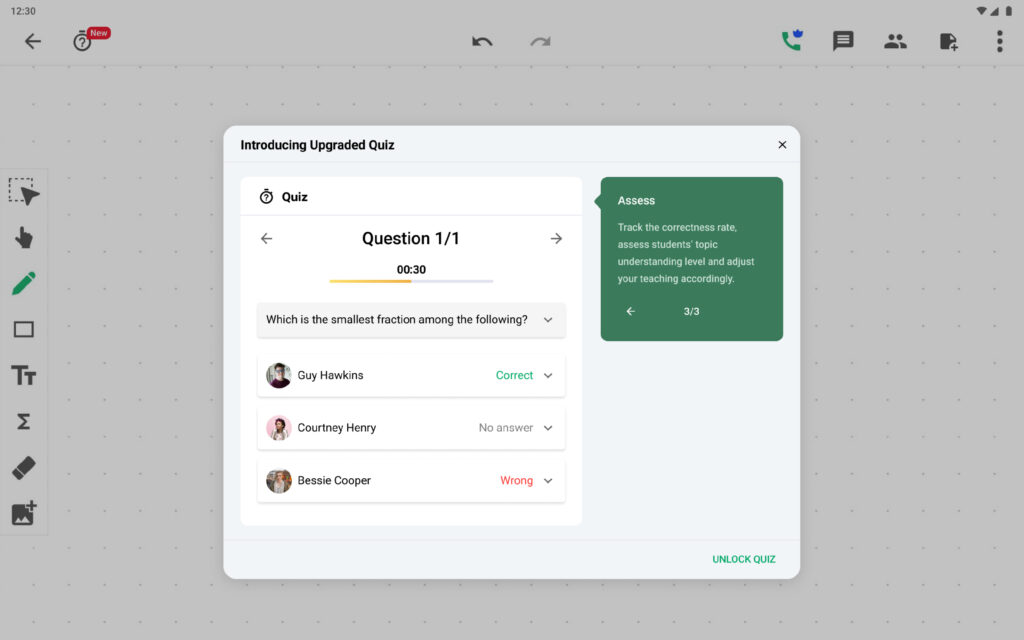 To keep students focused, you can use LiveBoard to create interactive quizzes. You can either make a quick single-question quiz on the spot to evaluate the students' grasp of the topic, or form multiple questions at once, both in single and multiple-choice options. You can also track how your students are answering questions in real time.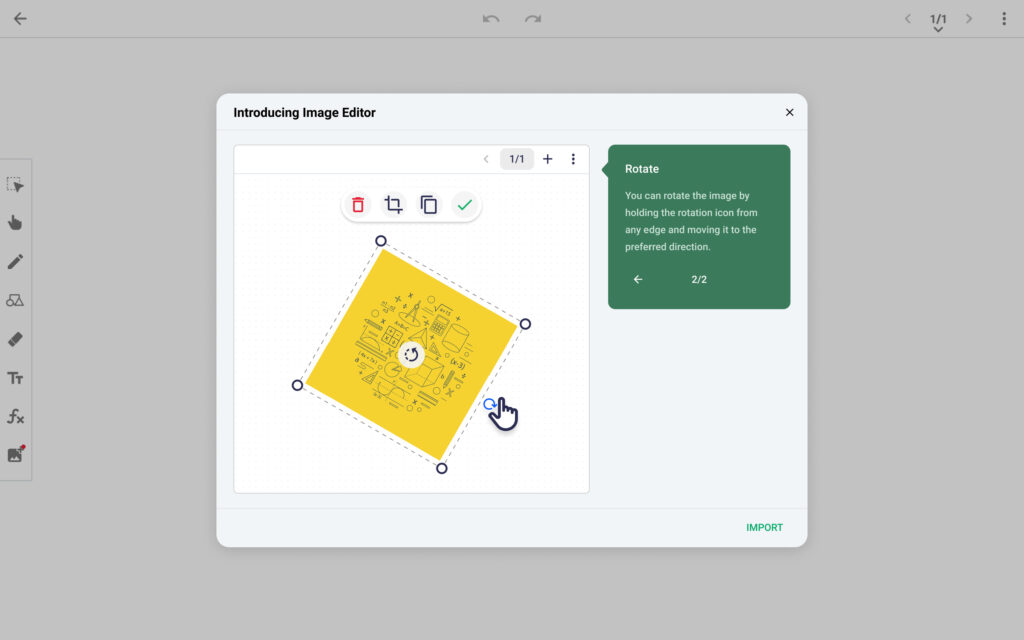 LiveBoard also lets you work with files of different formats. Not only can you create and record video lessons, but you can also export your classes in image or PDF file formats. Similarly, you can upload images and documents to the board. You can edit your photos according to your liking, as well as make highlights and notes on the documents.
Lastly, you don't have to replace your favorite teaching space with LiveBoard. Instead, you can connect Zoom and Google Meet to the whiteboard and get maximum value out of the app.
#2 Whiteboard Fox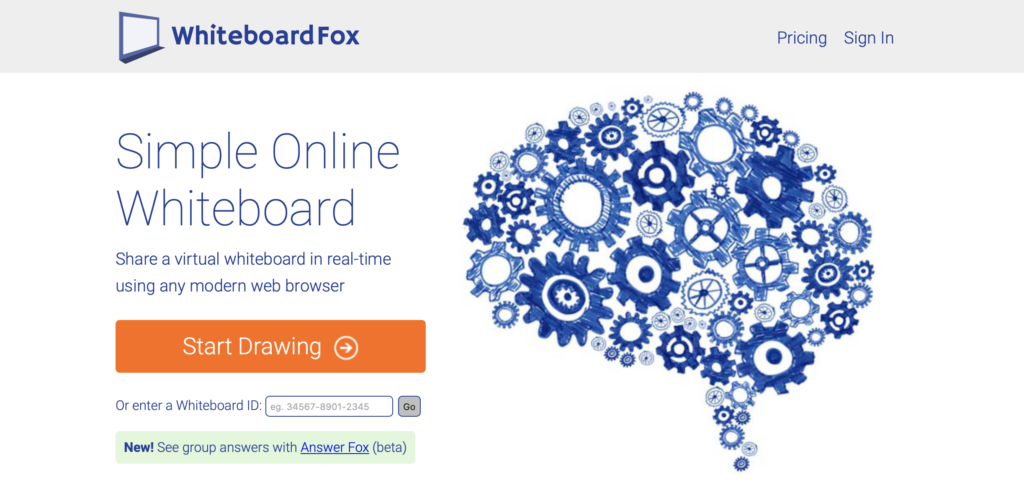 Whiteboard Fox is a great option for a digital whiteboard for online classrooms and collaborative teamwork. You can easily make geometrical shapes or graphs with the platform's drawing and ruler tools. You can use this whiteboard on desktops, tablets, and mobile devices. Furthermore, you can upload jpegs, draw, write, and highlight anything. Whiteboard Fox has a straightforward and user-friendly interface. You can share your board with your classroom or team, allowing them to work on it with you interactively.
#3 Ziteboard

Ziteboard is another Classroomscreen alternative, an online digital whiteboard that's perfect for real-time collaboration. The board can be accessed by multiple users simultaneously, making it ideal for team projects. It's very user-friendly and offers a wide range of features. You can use various drawing tools to create shapes, graphs, and diagrams. You also have the option of adding images and documents to the board, as well as exporting your board as a PDF document. The whiteboard also has a built-in voice and video chat function that lets you communicate with your team members in real time.
#4 Ayoa Whiteboard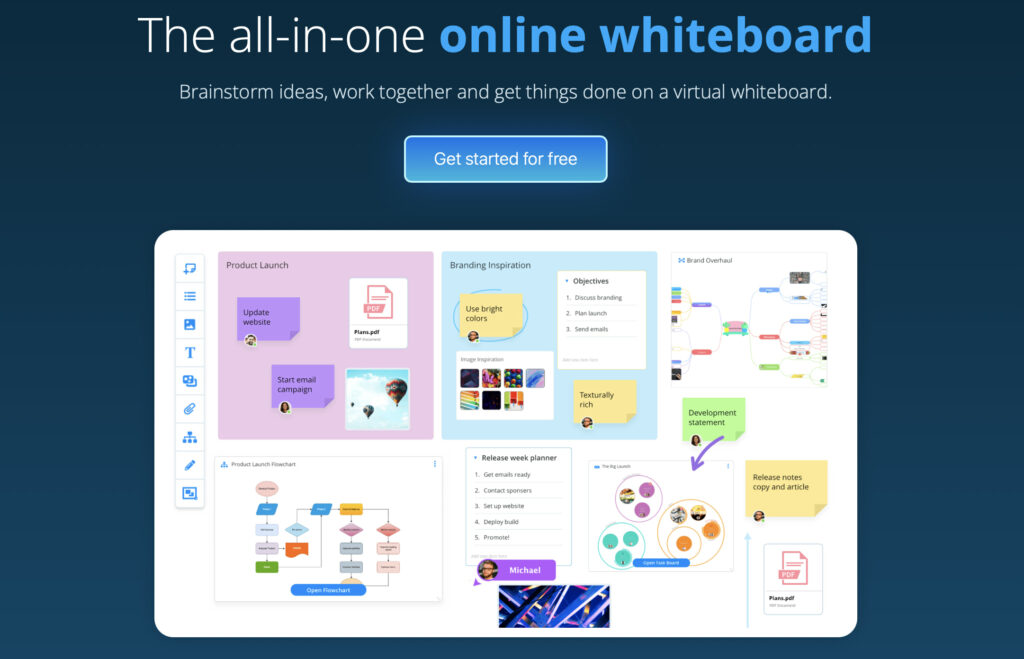 Ayoa Whiteboard is an all-in-one whiteboard ideal for both online teaching and collaboration environments. The platform includes tools like sticky notes, drawing tools, and text and shapes. Bonus features extend its practical value. You can upload files and documents to your whiteboard, as well as images from your computer or free stock image sources like Unsplash. Furthermore, the platform enables you to create flowcharts and lists to better organize step-by-step mapping and team schedules.
#5 Stormboard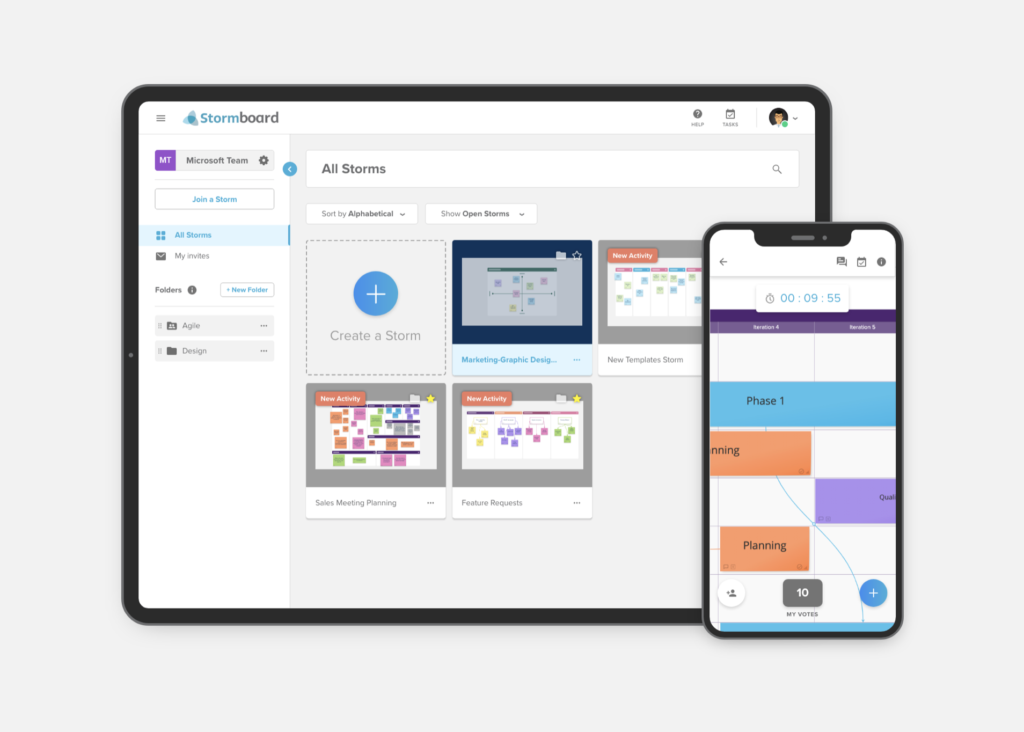 Stormboard is a Classroomscreen alternative widely used by businesses and schools for remote collaboration. The whiteboard offers a wide range of features, such as sticky notes, text boxes, images, and videos. You can also draw on the board with the drawing tool or upload images from your computer. The whiteboard has a built-in chat function that lets you communicate with your team members in real time, and lets you export your board as a PDF document.
#6 MIRO Whiteboard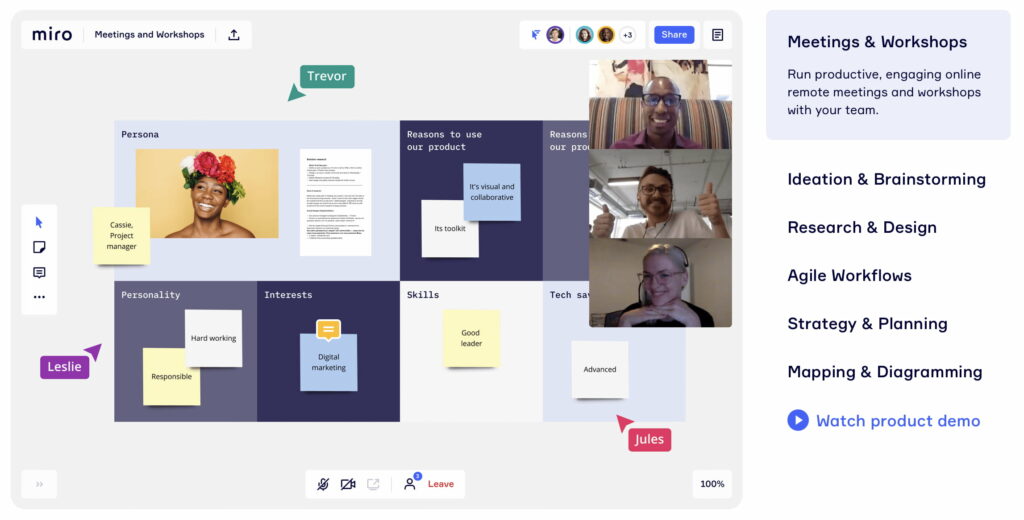 MIRO is a Classroomscreen alternative that offers an infinite canvas and a variety of features for creative collaboration. You can create mind maps, wireframes, prototypes, and more with MIRO. You can also use it to facilitate remote team collaboration by sharing your screen and working on projects together in real-time. MIRO allows you to connect the platform to the tools you already use, including Google Drive, Dropbox, and Jira and lets you export your projects in PDF, PNG, or JPEG formats.
#7 Explain Everything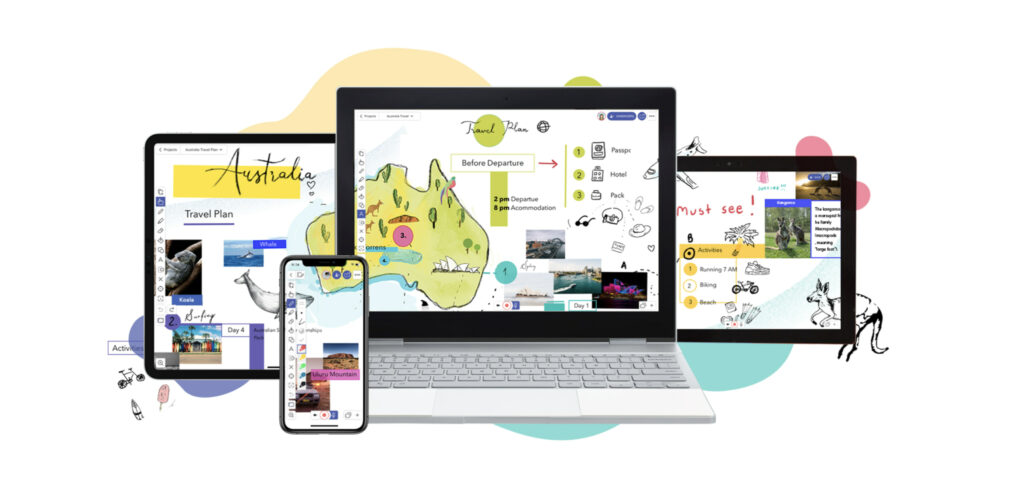 Explain Everything is an online digital whiteboard that stands out with its user-friendly interface and intuitive use. With Explain Everything, you can easily record your video lessons, share the board with your students for collaborative and interactive classes, as well as use a variety of read-made templates for multiple purposes to streamline your work process. Additionally, you can connect the app to such conferencing tools as Google Meet and Zoom. 
#8 MURAL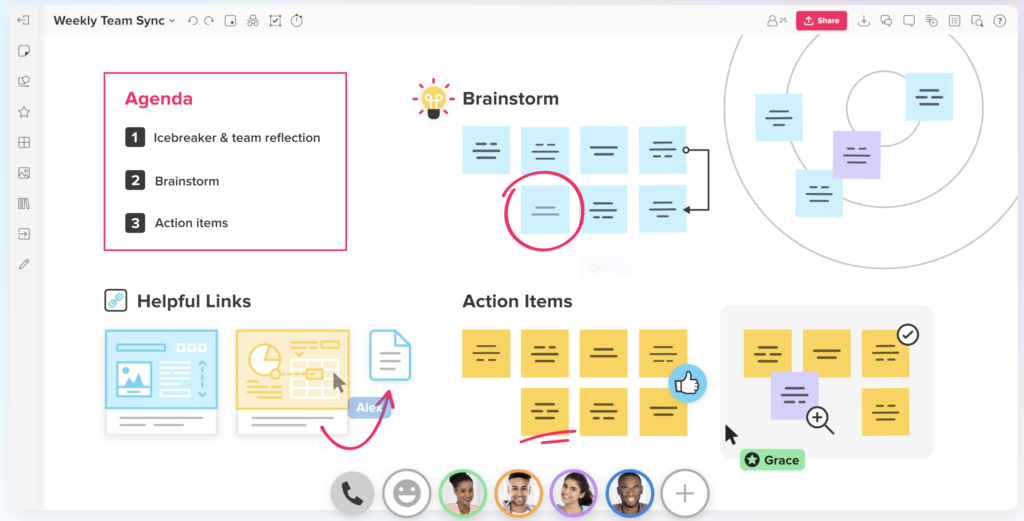 MURAL's whiteboard is designed for effective collaboration in remote teams. It's an online workspace that helps you think, work visually, and solve problems creatively with your team. With MURAL, you can co-create user flows, wireframes, mind maps, or any other diagrams with anyone on your team. With MURAL's library of templates, you can get your team started on the right foot. For example, you can find templates for scrum sprint planning, customer journey mapping, or SWOT analysis. You can also use MURAL's chat function to communicate with your team in real-time. MURAL is integrated with a number of popular tools, such as Slack, Google Drive, and Dropbox.
#9 ConceptBoard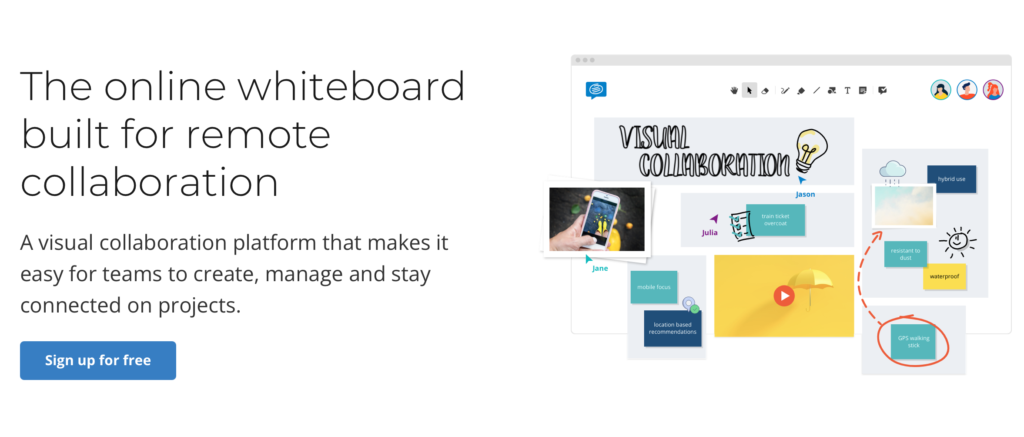 With ConceptBoard, you can create and share digital whiteboards with your students or colleagues in real-time and work on them together. The platform allows you to create beautiful and professional-looking boards with images, videos, and other media files to your boards. You can change the background color or even upload your image as the background. It also enables you to keep track of the progress with project management features, as you can assign tasks to specific team members and set deadlines. You can also leave comments on the boards and get notifications when someone replies to your comment. Lastly, ConceptBoard's wide range of templates is designed for specific purposes, such as product development, marketing campaigns, and web design.
Wrapping Up
In conclusion, there are many Classroomscreen alternatives that offer a wide range of features for online collaboration. Whether you're looking for a whiteboard for online teaching or team projects, an option on this list will suit your needs.